On a fifteen year-scale Fidelity expects Bitcoin can touch $100 million based on the stock-to-flow model.
While several retail analysts have been giving some crazy target for Bitcoin (BTC), this time investment giant Fidelity has made some mind-blowing predictions.
In its recently held "very special" webinar, the Boston-based investment giant has turned ultra-bullish for Bitcoin. The analyst at Fidelity took a deep dive into Bitcoin discussing its possible effect on the market.
Fidelity has been in the crypto space for a while now. The financial giant has its own crypto subsidiary offering enterprise-grade bitcoin custodial services to institutions.
Drawing inferences through the stock-to-flow model by PlanB, Fidelity has put forward a $1000 million price target for BTC by 2035. Furthermore, it also sees Bitcoin touching a $1-million price target in a decade's time. Bitcoin Exchange Guide was the first to report about it.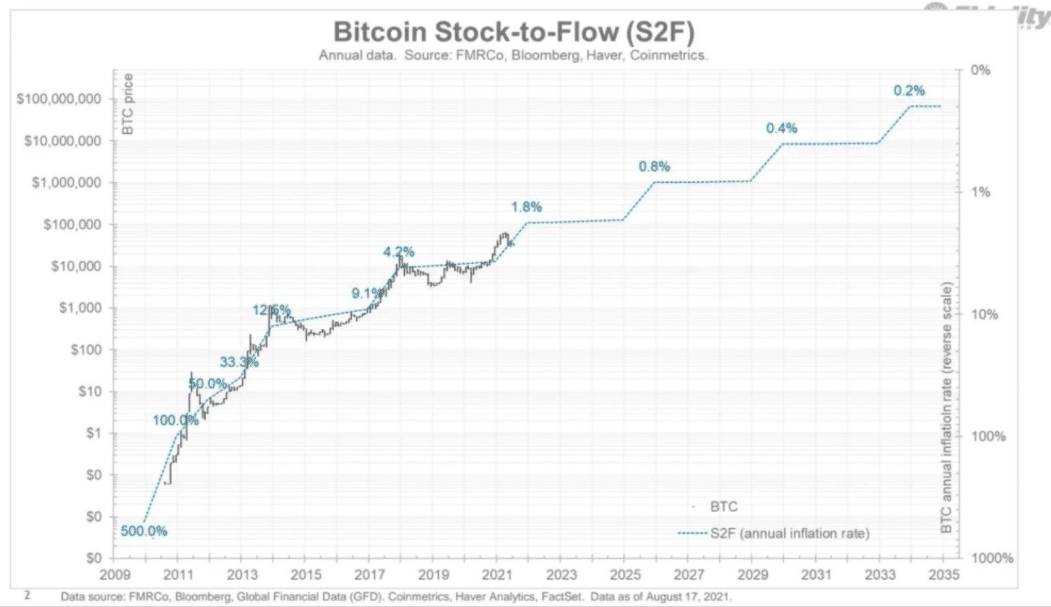 Photo: FidelityJurrien Timmer, Director of Global Macro Fidelity was the host of the webinar. He also shared several charts helping the audience to understand Bitcoin.
Is It Even Real for Bitcoin (BTC) to Touch $100 Million as Fidelity Expects?
Although we have 15 years of the time horizon to touch these targets, it seems unrealistic at this point. One of the crypto analysts on Reddit noted:
"Bitcoin is not gonna reach $100 million. That would give it a market cap of $2,100 trillion. The total wealth of the entire world is $418 trillion."
Furthermore, Timmer also shared charts showing the Bitcoin adoption curve based on its active address count. He also showed an interesting comparison with internet users, broadband subscriptions, and mobile phone users.
Interestingly, the webinar put some light on the purchasing power of different asset classes. Stocks were the clear winner followed by bonds and cash. The purchasing power of USD stood the least. The yellow metal aka physical Gold isn't even doing better at $94 whereas the inflation index has skyrocketed to $65.
After staying under pressure for the last two days, Bitcoin is making another attempt at $50,000. As of press time, Bitcoin (BTC) is trading at 3.58% up at a price of $48,901 and a market cap of $921 billion.
Other altcoins have also joined the market rally. Ethereum (ETH) is up 4% regaining the $3200 levels while is up 10.72% trading at $2.84 making its way to a new all-time high. SOURCE Fidelity Expects Bitcoin (BTC) Price to Touch $100 Million by 2035, Is It Real? (coinspeaker.com)