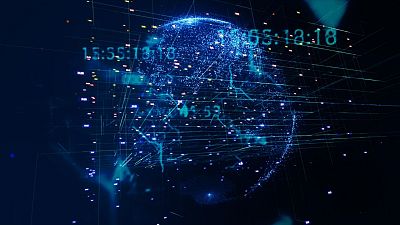 CRYPTO CONCEPT DESIGN – Copyright GETTY VIA CANVABy Pascale Davies • Updated: 31/08/2021 – 16:14
Solana's SOL token has risen to become the seventh-most valuable cryptocurrency this week, overtaking Dogecoin on Tuesday and rising by 26 per cent to reach a record high of $125.98 (€106.55).
In the last month, it has soared almost 220 per cent.
The token made its debut only 18 months ago but now has a market value of over $30 billion (€25 billion). So, what are the reasons for Solana's rise in the cryptosphere?
The main reason Solana has attracted so much attention recently is because of the network's entry into non-fungible tokens (NFTs), which can be anything digital such as art or music that are sold with tech.
Solana launched Degenerate Ape Academy, which sold a collection of pictures of cartoon apes. 10,000 of them sold in the first 10 minutes, which then drove the SOL token higher as people needed the cryptocurrency to buy the cartoon apes.about:blank
Solana has also been helped by the August rally of NFTS, which hit a record in sales of about $900 million (€761 million).