The UK's Financial Conduct Authority (FCA) singled out Kim Kardashian for promoting the cryptocurrency Ethereum Max, a potential scam that increased its value 1,370% in two weeks.By Mairem Del Río September 7, 2021This article was translated from our Spanish edition. Opinions expressed by Entrepreneur contributors are their own.
The now billionaire Kim Kardashian is being targeted by the British government for her work as an influencer. Authority Financial Conduct (FCA) in the UK said the businesswoman to promote speculative cryptocurrency ethereum Max (EMAX), a token that raised its value more than 1,370% in just two weeks, but it could be a fraud 'crypto '.
Depositphotos.com
Charles Randall , director of the FCA , revealed that the founder of KKW Beauty published an Instagram story last June recommending the mysterious digital currency, which is not linked in any way to the Ethereum network.
Since Kim Kardashian has more than 251 million followers on Instagram alone, Randall said it was perhaps "the financial promotion with the largest audience reach in history," in a speech posted on the FCA website.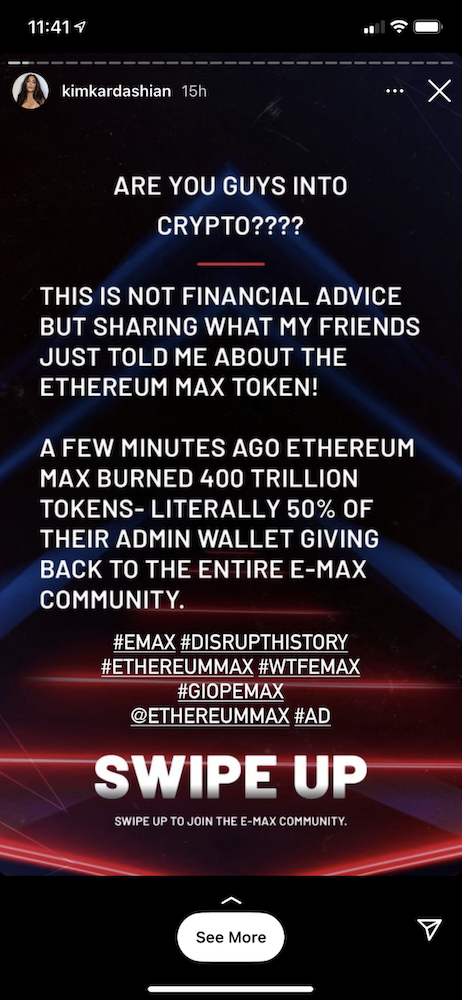 Image: Kim Kardashian via Instagram .
"Are they into crypto? This is not financial advice, but rather to share what my friends just told me about the Ethereum Max token! A few minutes ago Ethereum Max burned 400 trillion tokens – literally 50% of its management portfolio going back to the entire E-Max community, " read the celebrity's Instagram Story.
In addition to Kim Kardashian , celebrities like boxer Floyd Mayweather and former basketball player Paul Pierce have made announcements about Ethereum Max .
In fact, according to a press release, Max ethereum was "cryptocurrency Exclusive (sic) accepted for purchase online ticket" for the recent bout pay – per Mayweather vs. Logan Paul.
Did Kim Kardashian commit any infraction while promoting Ethereum Max?
In the publication, Randall acknowledges that the most famous Kardashian did comply with the rules of Instagram , indicating that they were paid ads. Furthermore, he said, Kim had no obligation to explain or make transparent what Ethereum Max is .
"Of course, I can't tell if this particular token is a scam. But scammers routinely pay social media influencers to help them push and dispose of new tokens based on pure speculation. Some influencers promote currencies that simply do not exist at all " , detailed the director of the FCA.
"There are many stories of people losing all their savings when they are drawn into the cryptocurrency bubble under the illusion of getting rich quick," added Randall. "And sometimes this happens thanks to influencers who are willing to betray their fans in exchange for money ."
At the time, the CoinDesk portal speculated that Kim Kardashian would have made between $ 300,000 and $ 500,000 (or more) by promoting the EMAX .
SOURCE What is Ethereum Max? This cryptocurrency has Kim Kardashian in the sights of the British government, it rose 1,370% in two weeks! (entrepreneur.com)