It has been a week of choppy price action with several crypto assets trading down on a 7-day basis owing to Tuesday's "flash crash". However, selected tokens such as Solana (SOL, +33.49%), Terra (LUNA, +26.43%), Algorand (ALGO, +74.00%), Elrond (EGLD, +78.43%), Fantom (FTM, +59.39%), Harmony (ONE, +56.38%), XYO (XYO, +221.98%) are significantly up on a weekly basis.

Cardano's "Alonzo" upgrade is expected to roll out on Sunday and will usher in smart contracts, NFTs, and above all "programmability" to the blockchain. Cryptoanalyst, Michaël van de Poppe sees the possibility of ADA reaching $5.
"Massive bounce on Cardano…Might be ready for $5".
ADA trades presently up by 13.45% at $2.73, ranking third-largest by market capitalization.
What's Happening With Bitcoin, Hedera Hashgraph, XYO, DIA, MoonRiver?
Bitcoin (BTC)
Bitcoin (BTC) miners officially produced their 700,000th block on Sept. 11, marking a major milestone for a network. Notably, it took Bitcoin less than two years to produce 100,000 more blocks after reaching the 600,000 milestones on Oct. 18, 2019.

However, Bitcoin price currently stagnates under key resistance, following Tuesday's "flash crash" whose real cause is yet to be ascertained. Cryptoanalyst, Willy Woo states "Contrary to common opinion, that latest price pullback was not from Whale selling. They've been in a significant region of buying."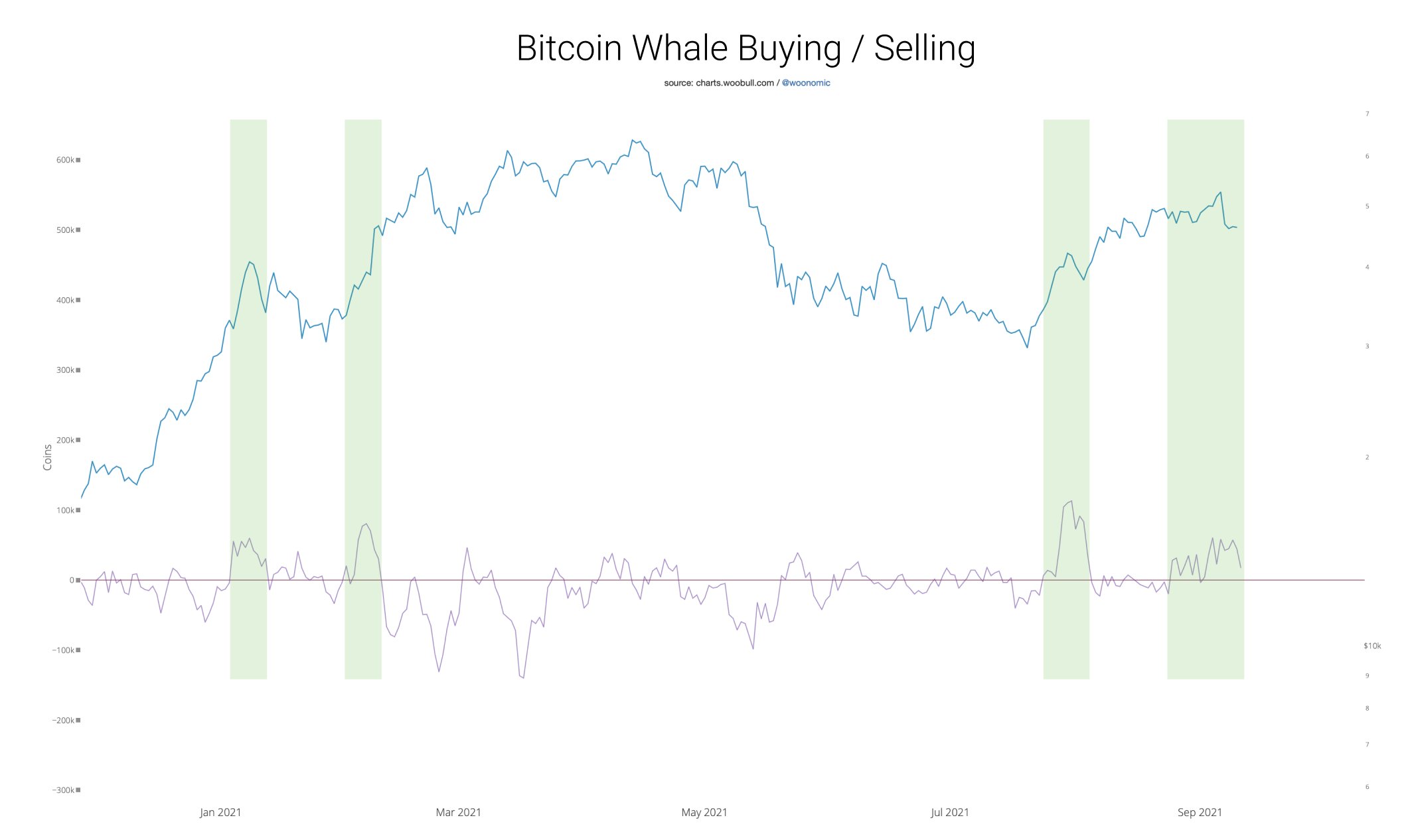 Courtesy: charts.woobull.com, @woonomic Twitter
He further explains:
"Investors in the 100-1000BTC have been divesting. That's a sell up to the $50m range. It's still a pretty big impact when the market is overleveraged. 100-1000 is not technically Whales, but it's far from retail. Family office sized or small hedge fund."
Analysts point to the $38,000 level as the ultimate line in the sand in the case of a more intense BTC price correction.

DIA (DIA)
DIA is an open-source data platform providing oracles for DeFi. On Sept. 10, DIA announced a new partnership with Deficliq to fuel Deficliq's platform with accurate and reliable on-chain data.

Hence, DIA's open-source and transparent oracles will be integrated into Deficliq's lending platform to improve its security and privacy layers. Following the news, DIA rallied from lows of $1.70 to highs of $2.59 on Sept.11, gaining nearly 52%. At the time of post, DIA traded at $2.50.

Hedera Hashgraph (HBAR)
Hedera remains one of the top gainers for the day, climbing from $0.312 to highs of $0.386, gaining nearly 22%. This recent move brings Hedera nearly 17% closer to its March all-time highs of around $0.45.

On Sept. 10, real-time data analytics firm, FOBI announced its integration With Hedera Hashgraph to deliver increased security and verification for CheckVax Digital Proof of Vaccination Service. Hedera Hashgraph's public ledger technology will enable Fobi to provide a secure mobile wallet and proof of vaccination credentials in the market.

XYO (XYO)
XYO is a decentralized network of devices that anonymously collects and validates geospatial data, or data with a geographic component. XYO has traded the last three days in the green, partly buoyed by the news of its recent listings.

On Sept. 10, the network announced "We are proud to announce that XYO is now available not just on Coinbase Pro, but on Coinbase, the largest cryptocurrency exchange in the U.S. and one of the largest exchanges in the world." CoinEx had also listed XYO on the same Sept. 10.

MoonRiver (MOVR)
According to their website, Moonriver is a Community-Led Sister Parachain on Kusama which officially launched on Aug. 26. Moonriver claims to be the first EVM-compatible Parachain on Kusama Network.

Giving a recap of how MoonRiver has fared since its almost two weeks of launch, the team states:
"Moonriver has seen incredible growth in its first two weeks! More than 680k $MOVR (~$130M) staked, 48.7% average daily growth in transaction volume"
Notably, MoonRiver has traded the last 7 days in the green, up 286% since Sept. 5. At the time of post, MOVR traded at $454 after notching all-time highs at $510 on Sept. 11.
SOURCE https://kryptomoney.com/whats-happening-with-bitcoin-hedera-hashgraph-xyo-dia-moonriver-analyst-sees-ada-reaching-5/