Although the Solana price has been consolidating following September's all-time high, the long term uptrend says more gains are ahead. Solana (SOL/USD) is trading at $158.69 (+1.00%), up 12.30% in October and +9,940% year-to-date. SOL currently has a market capitalization of $47.6 Billion, ranking it as the 7th-most valuable cryptocurrency, behind Ripple.
Solana is a Decentralized Financed (Defi) protocol that combines Proof-of-Stake (PoS) and Proof-of-History (PoH) consensus to enhance scalability, which has attracted considerable investor interest this year. The native SOL token has been on a blistering bull run in the last three months, surging from $22 in July to $222 in September. However, Bitcoins run to $62k, has pulled money from altcoins over the last month. As a result, the Solana price has consolidated in a narrowing triangle pattern since the September high. However, despite the SOL token retreating around 25% in the last four weeks, the long-term view remains constructive.Advertisements
SOL Price Analysis
As we see on the daily chart, Solana has been trending higher in a rising channel for over a year. Furthermore, the recent consolidation has formed a concise ascending triangle pattern which is considered a bullish formation. Technically, if the SOL token clears the top of the triangle at $170, it should target the long-term trend resistance at $330, around 110% above the latest price.
On the flip side, if Solana drops below the lower edge of the triangle at $136, it could encourage short-term bearish momentum. In that event, the 100-day moving average at $99.92 becomes a logical target. Below that, a rising trend at $85.00 offers critical support. As long as Solana remains above $85.00, I consider the structural bull market intact. Therefore, I expect to see buying on any dip towards $100. As long as Solana respects the rising trend channel, I maintain a long term bullish price outlook. Therefore, if the SOL token drops below $85.00, it will invalidate this thesis.Advertisements
Solana Price Chart (Daily)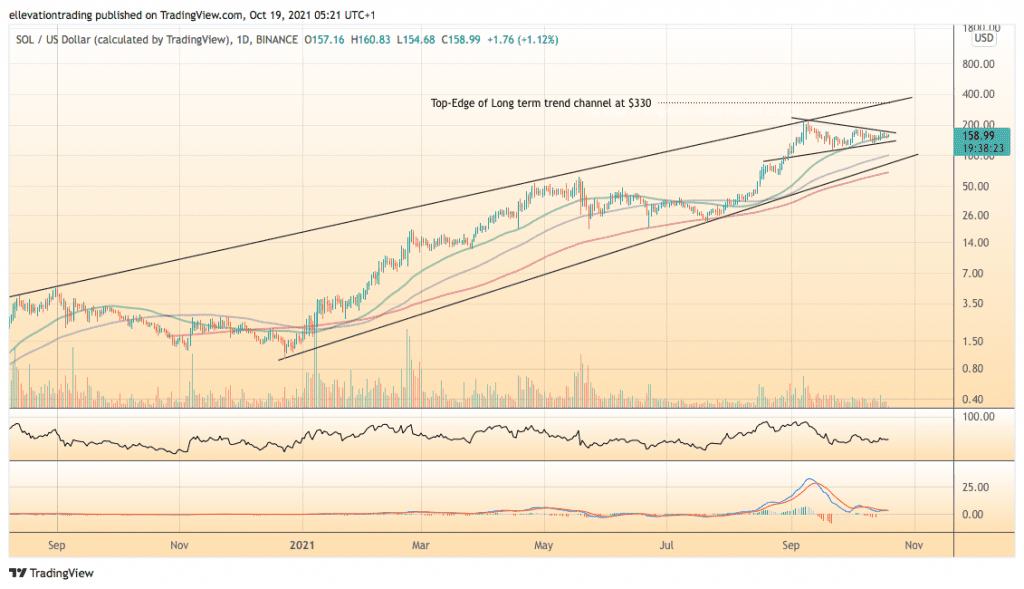 BCN.SOCIAL BlockChain News