The new highly mutated and contagious Omicron variant is already causing travel restrictions.
While it may be a 'nothingburger' like the Mu variant, we are starting to see local mask mandates again on top of international concern.
Small business got crushed by COVID and is a critical growth driver for Square, but the shutdowns and reopening were both positive catalysts for Square.
The company's innovation will drive continued growth.
This idea was discussed in more depth with members of my private investing community, BAD BEAT Investing. Learn More »
Square (NYSE:SQ) is a stock we have been in and out of over the last few years. This company remains a game-changer in the space. We expect great innovation in the long-term. The Street largely agrees that is why the stock has been bid up and stayed above $200 for quite some time. We are writing today as the stock is hovering just north of $200, and we believe this is a buying opportunity once again, especially with the holiday shopping season now in full swing and the threat of the new Omicron variant scaring the populace and likely to drive increased shopping from home, along with other digital means. While Square benefits from reopening in its small business exposure, it is a major beneficiary of digital transactions as well. We think shares are a buy here, following a recent selloff.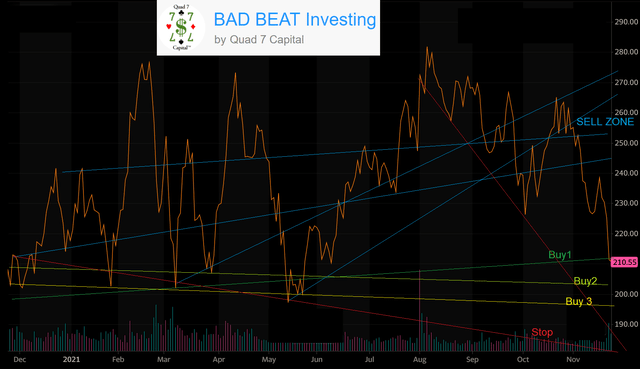 Source: BAD BEAT Investing
The play
For those interested in trading:
Target entry 1: $208-$212 (20% of position)
Target entry 2: $202-$203 (30% of position)
Target entry 2: $191-$193 (50% of position)
Stop loss: $175
Target exit: $250-$260
Call option consideration: Jun 2022 $220 strike for $23 and again for $16
Discussion
The backdrop
Great things are happening with Square. They are innovating new ways to sell and pay for goods and services, as well as ways to move wealth via the transfer of cash and crypto. They are also assisting small businesses drive sales.
You see this new Omicron scare is interesting. It could be a giant 'nothingburger,' much like the Mu variant turned out to be. Or it could be a highly virulent strain the evades the vaccine similar to the Delta variant, with far worse complications. There are already travel restrictions. It all remains to be seen. Square, although helping small businesses and benefiting from the reopening of the economy, saw business boom during the pandemic. Of course, a lot of this was driven by investments in its marketing and business development that included expansion of its exposure to Crypto.
While we feel sub-$240 is a fair entry point longer-term, we had been waiting for closer to $200. It is getting to be that time to buy this fintech disruptor, as it is showing that it is still growing nicely. This was evidenced by the company's just reported numbers.
Again, it is really difficult to apply traditional valuation metrics here as by just about every measure the stock is overtly expensive, though far less so than a few weeks ago. While we have set up a trade that we think will pay off, even if you get only the first leg of the play, we really think the company is best invested in for the very long-term here. With the growth on display, we believe the company will grow into its enormous valuation.
Q3 earnings solid
Revenues have taken off since Square started dabbling in bitcoin (BTC-USD). Crypto has been a big hit for companies that have allowed their users to start buying and selling. In Q3, net revenue was $3.84 billion up 27% year-over-year. Overall, this was a touch lower than consensus estimates. If we back out the crypto transactions, total net revenue in the quarter was $2.03 billion, up 45% year over year. Without bitcoin this is still pretty impressive growth. While the growth is not as major as it was a year ago, you can clearly see that bitcoin is important to the growth of the company.
That said, every segment of business is performing well under the Square umbrella. Overall, gross profit was $1.13 billion up 43% year-over-year, and this is strong even if it was down from Q2, which was a huge quarter.
Transactions and GPV gross profit
Make no mistake, transaction revenue continues to explode to the upside. In fact, revenue from transactions was $1.30 billion rising 40% year-over-year, while gross profit was $543 million, up 35% from the year ago quarter.
Volumes, which are a key metric, were less than expected. However, they were up tremendously from a year ago.
Square processed $45.4 billion in GPV up 43% year-over-year. This also was higher than the $42.8 billion in GPV in the sequential Q2. But cost of sales is rising some and as such transaction-based gross profit as a percentage of GPV was 1.19% down 7 basis points year-over-year and down 8 basis points quarter-over-quarter.
It is worth noting the growth in subscription and services-based revenue. This revenue rose to $695 million while gross profit was $563 million, up 48% year-over-year.
Overall, things are trending in the right direction for the most part. But the digital strength is truly impressive.
Digital strength with Cash App and bitcoin
Cash App is a huge driver of growth and will continue to be. Cash App generated $2.39 billion of revenue while also seeing $512 million of gross profit. Now, it may be considered a bit of a negative only in the sense that this was down $1 billion from Q2, but Q2 was incredibly strong overall, perhaps driven by the economy being back in full swing and before inflation really ramped up. That is speculation on our part but stands to reason, on top of normal seasonality in commerce in terms of cash app anyway. Bitcoin pricing also is a major driver.
Overall, here revenue rose 16%, while gross profit rose 33% from last year. The latter is particularly bullish. Again, bitcoin was a large part of this. If we back out bitcoin, Cash App revenue was $578 million, up 33% year-over-year. With bitcoin being so volatile it can help with trading revenue, but given Square holds a lot of bitcoin, it benefits from a rising price, and in the quarter it was all over the place. Still, long-term, cryptocurrency access for customers and exposure on the balance sheet is huge for the company. The company is highly invested in Bitcoin. You can expect the stock to continue to trade with a slight correlation with the price of bitcoin. However, the bulk of the business is still transaction based, and small business, which in a very dark scenario could be hurt by the Omicron variant.
Small business growth
It is important to mention that some of the biggest customers and drivers of revenue for Square are small businesses. It was a dark time back in spring of 2020 when so many businesses were shut down. They were hammered during the height of the COVID crisis but started coming back on in H2 2020, with much better ramp up here in 2021.
The main concern of this new variant is that it could stymie the reopening. We are not suggesting that business will be ordered shut down. We think America will not stand for that again. However, under dark scenarios we could easily see reduced operating hours, social distance mandates, and the requirement for mask again. We are starting to see masks being ordered again. While it may seem small to some, this is something keeps people home. People can stay home, order goods, no mask, in pajamas. Why go out to deal with masks, sanitizer, spacing, standing in distanced lines, or battling with special hours. Again, we are not saying this will happen, but illustrating what COULD happen under a nasty outbreak once again. For now, keep it in mind because the reopening has been a positive catalyst for Square.
Small businesses, as part of the broader seller ecosystem, drove $1.39 billion of revenue and $606 million of gross profit, both up over 40% from a year ago. This is solid growth for Square. Anything that limits small business will not only hurt the American economy but would also hurt Square. While the other lines of business can help, I think we can all agree no one wants to see any sort of shutdowns and new mandates, just as much as we do not want to see people sick or dying.
Operating expenses spike and led to somewhat soft earnings in Q3
Revenue is growing and Square is now earnings positive. In Q3 however operating expenses rose and the pace of expense growth outpaced the revenue gains. This weighs on earnings power. Operating expenses were $1.11 billion, rising 49% year-over-year. That is a big increase relative to revenue growth. On a GAAP basis, the company pretty much broke even as net income was $0.1 million. If you adjust for the $7 million loss on their equity investments and $6 million in losses on bitcoin, then net income was $13 million. Recall in Q2 2021 Net income was $173 million. Excluding losses, EPS was $0.03 on a GAAP basis, but Adjusted EBITDA rose to $233 million from $181 million last year, while adjusted EPS was $0.37, rising $0.03 from last year, pretty much landing in line with expectations.
Forward view
As we look ahead business trends are strong though increases in operational expenses are of course a concern. They have to rise to grow, that is true. But when they outpace revenue growth, it hurts earnings power. Short-term, the company has proven that it is making the right investments in its growth, so we think you can go along for the ride. The Omicron variant is a concern, but right now, it's really just hitting the radar. Keep an eye on it. We think with Square, you can trade here, but you should really take the long view on this one. For Q4 our expectations based on existing trends is for EPS of $0.40-$0.50 on revenues of $4.4-$4.9 billion, with operating expenses rising similar to Q3.
As we move into 2022, bitcoin pricing and volatility matters. Small businesses matter. Any new COVID-related restrictions will hurt businesses. With a strong holiday season forecasted, the Cash App Pay and point of sales are likely to do very well so we will watch for progress there in the Q4 report. The closer shares get to $200 the more bullish we are, and we think shares are a strong buy here.
Source https://seekingalpha.com/article/4472188-square-omicron-lands