The selloff in Bitcoin has coincided with weakness among high-growth momentum technology stocks and more speculative areas of the market.
Macro uncertainties including rising interest rates and questions regarding the strength of the economy have added to poor sentiment towards crypto.
We expect volatility to continue, but another leg lower could ultimately represent a new buying opportunity in Bitcoin which maintains a positive long-term outlook.
Looking for a portfolio of ideas like this one? Members of Conviction Dossier get exclusive access to our model portfolio. Learn More »
It's not the start to 2022 crypto bulls were hoping for with Bitcoin (BTC-USD) selling off into a 3-month low and dragging down the broader segment. Despite some early momentum in Q4 which saw BTC make an all-time high of $69k, the rally failed to sustain gains, effectively trading off a double top and breaking down towards the key $40k level of support. On one hand, this type of volatility is otherwise completely normal for the asset class while BTC is still up nearly 20% over the past year and more than 300% from levels in 2020. There are plenty of tailwinds that support a positive long-term outlook and it's still possible we get a rebound higher this year. That said, it's clear that sentiment is broken and we expect volatility to continue.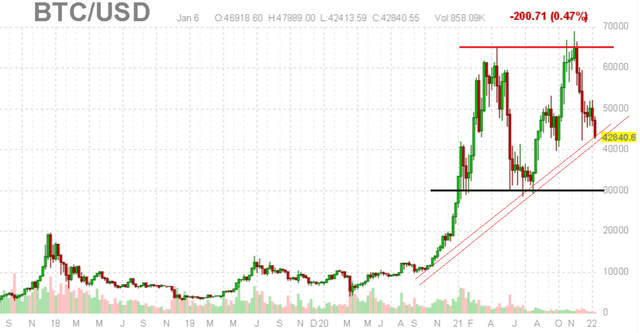 (source: finviz.com)
There's not much in terms of direct headlines to tie into the crypto weakness but our sense is that the current trading action follows broader macro trends pressuring the technology sector. For everything Bitcoin is and represents, it's still a form of high-beta "tech". While the correlation isn't perfect, it's curious that BTC and the NASDAQ-100 (QQQ) ended 2021 with a similar annual return.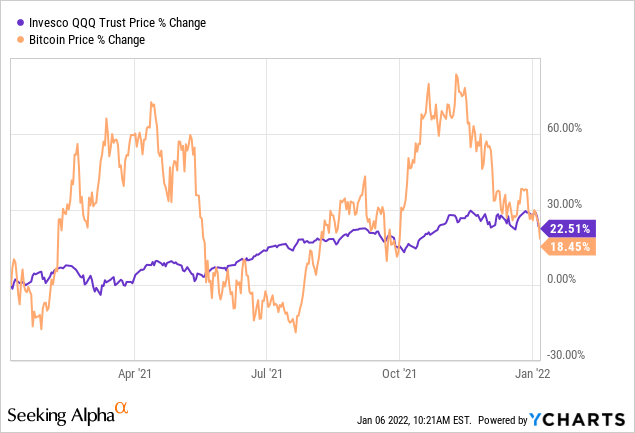 Why Did Bitcoin Selloff?
One of the themes in recent months has been the deep correction in high-growth, momentum, and more speculative areas of the market. For tech, companies trading at sometimes extreme sales multiples and unprofitable, have been among the biggest decliners. While some of that trend is based on the recent interest rate volatility and a stronger dollar, the market has also been reckoning with what was likely stretched valuations for the group at the highs of last year that in hindsight were possibly based on some unrealistic expectations.
Just over the past 3-months, high-profile thematic funds with little or only a peripheral connection to crypto and blockchain like the ARK Innovation ETF (ARKK), Renaissance IPO ETF (IPO), or the Global X Cloud Computing ETF (CLOU) sold off into a bear market highlighting the weakness. Similarly, individual stocks that were previously seen as momentum stalwarts have suffered even deeper losses. For Bitcoin, we can argue about fair value but it's fair to say that as a commodity or alternative asset, the cryptocurrency draws parallels to a group of innovative names.
So attempting to explain the recent Bitcoin selloff, we see the action in part related to financial market contagion. Simply put, tech-focused investors exposed to next-generation areas of the market like cloud computing or even clean energy are forced to liquidate some crypto holdings to cover losses. The point here is that the forward outlook for Bitcoin over the near and medium-term will be implicitly tied to the direction and sentiment of these groups. It's hard to see a scenario where these tech stocks and ETFs continue selling off while Bitcoin diverges significantly higher.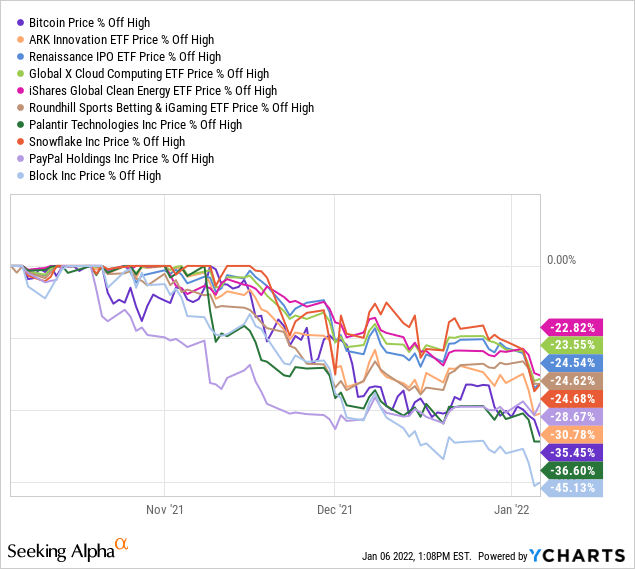 Bitcoin Outlook 2022
A bullish case for Bitcoin in 2022 is going to need "innovative" tech to rebound and regain positive momentum. One thought with a glass half full approach is that the selloff has already priced in some of the worst-case scenarios with an argument to be made that the group has good relative value.
That said, we are taking a more cautious outlook noting headwinds related to the rising trend in interest rates and uncertainties regarding the strength of the economic recovery. The ongoing Omicron Covid disruptions add another layer of market uncertainties with risk for a macro growth scare that Bitcoin may not be able to escape in the near term.
Simply looking at the NASDAQ-100 which is currently trading around a level first reached in September, a breakdown from the long-running uptrend since 2020 is still in the cards. In a scenario where the macro outlook deteriorates, we see risks tilted to the downside which we would expect drags Bitcoin lower following our theme for this article.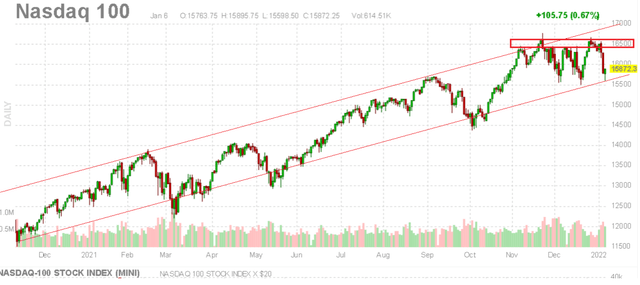 (source: company IR)
We have been long-term Bitcoin bulls based on an underlying view that cryptocurrencies have gained a level of institutional legitimacy including increasing allocation of capital towards the segment. Major corporations moving to accept Bitcoin as a payment option or facilitate transactions are a positive step for widespread adoption. SEC Chairman Gary Gensler has gone on record suggesting the "U.S. will not ban cryptocurrencies." The U.S. Treasury recently announcing a new framework describing the legality of cryptocurrencies within the banking sector is another favorable development indicating this alternative asset class that is here to stay.
We have written before as recently as November that Bitcoin needed to hold $50k to maintain the positive momentum at the time and we were forced to reduce exposure into the breakdown lower. The next level of support we are seeing is $40k which reflects a previous low from Q3. At this point, we see a high probability of Bitcoin retesting the 2021 low which now represents a major line in the sand for bitcoin bulls.
Considering the trading action over the past year, a move below $30k would mean that any new investor into the space would be underwater on their holding. At the same time, we have a conviction that $30k will hold and could represent a compelling buying opportunity for either a new position or to average down.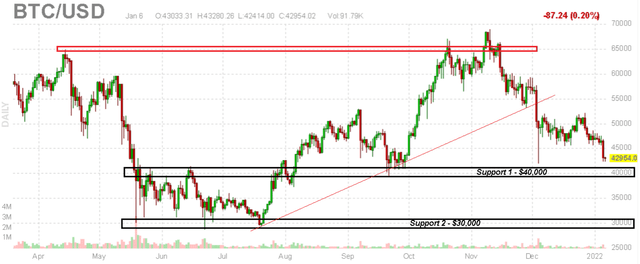 (source: finviz.com)
Final Thoughts
In the next few months, we believe Bitcoin will remain intrinsically tied to the fate of the broader tech sector for better or worse. Maintaining a positive long-term outlook on crypto, our message here is that we see a buy-the-dip opportunity, but we're not there yet. Starting to add under $40k could be a strategy that works.
To the upside we expect more moderate returns going forward compared to the spectacular multi-bagger rally over the past several years. If BTC can claw back to $55k by the end of the year as our new price target, representing ~33% upside from here, no one should be complaining. On the downside, the entire market is looking at the same charts and $30k will be an important level for crypto bulls to defend to maintain a sense of market stability.
Source https://seekingalpha.com/article/4478460-trouble-with-bitcoin-2022-still-tech