Stocks are mixed as investors mull that hefty jobs rise and any implications for Fed hikes, as consumer price data looms for later this week.
And while much of the U.S. thaws out from last week's brutal winter storm, a little ice appears to be melting around digital currencies. Bitcoin BTCUSD dropped all the way to $34,000 in January, sparking fears of a crypto winter, but has this morning charged back up to top $42,000. Even meme coin Shiba Inu is up about 20% to $0.000027.
Be wary, says our call of the day from J.P. Morgan Asset Management's chairman of market and investment strategy Michael Cembalest, who tackled a few problems that he sees in the digital currency's appeal as an investment. He compares it to hydrogen projects and green energy, asking really, what will the scale of bitcoin be ultimately.
"Which companies will actually make money and how many will go to zero? Are some valuations way ahead of themselves, setting investors up for disappointment?" he said.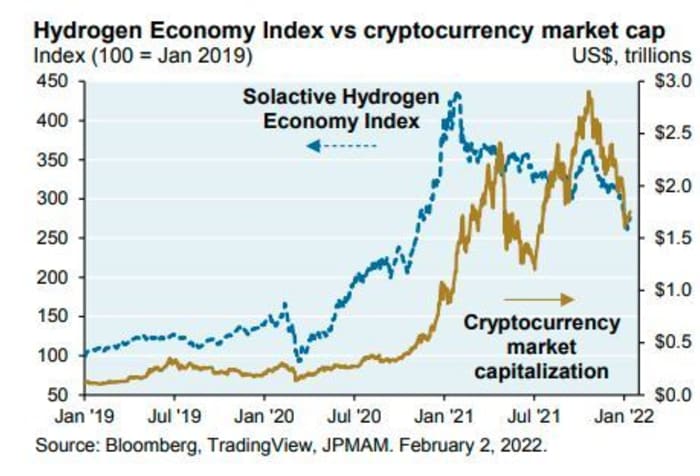 "Some hydrogen use cases make sense, but energy investors are pricing in a lot more than that, and that's how I feel about crypto valuations too. Some crypto use cases will endure, but valuations assume broader and faster adoption," said Cembalest.
Those crypto uses that may stick around? Remittances and permissioned, private blockchain with little to no cryptocurrency impact is all that he sees surviving for now, he said.
And bitcoin as medium of exchange is a few niche cases and nothing else. "The declining number of bitcoin transactions per day and the spikes in execution costs bear no resemblance to any functioning fiat currency," said Cembalest.
He points to a forthcoming article in Quantitative Finance, by NYU's Nassim Taleb, who notes It's been 12 years since bitcoin was created. Yet the few prices fixed in the crypto amount to "the 3 bitcoin cost of a permanent residence in El Salvador." Taleb also argues bitcoin transactions "can be more expensive to execute than those done using African mobile phones."
Cembalest tackled bitcoin's use as a store of value, arguable given a world awash in debt. He wants to see more proof of wider adoption and for volatility around the crypto settle down into a "range consistent with store-of-value investing." Bitcoin needs to either go up or remain stable when systemic risks or inflation are rising to compete with gold.
"I'm temped by the store of value thesis given the degradation of money, but have no crypto valuation tools to time my investment, and its volatility and market concentration are hard to manage," he writes.
Try the NEW MarketWatch Retirement Planner
"So much more thorough and easier to manipulate than the 'plan' created for me by my advisor. When something changes in my life or my thinking, bingo! I just change assumptions and make sure I still live longer than my money!"
Bitcoin volatility, meanwhile, "continues to be ridiculously high," tracking action in equity markets.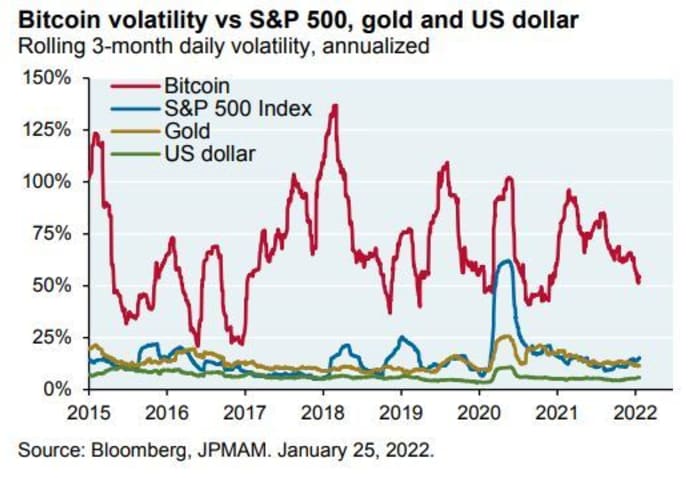 In short, he says this: "I won't be buying [bitcoin] even though part of me wants to, regardless of consequences, since that's what some crypto holders have been
counting on from the beginning. I would take another look if crypto valuations and the companies linked to them plummeted to deeply distressed values. But until then, the most widely discussed use cases and the valuations at which they're trading are still the 'stuff that dreams are made of.'"
That's one opinion. The bitcoin faithful of course, may beg to differ.
Source https://www.marketwatch.com/story/crypto-is-like-hydrogen-this-jpmorgan-strategist-says-with-valuations-in-both-ahead-of-reality-11644236223